Reply To: Connect 2 computers on same LAN to WAN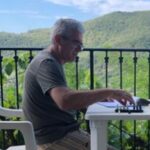 November 22, 2022 at 10:40 am
2 years, 3 months ago
(@salvatore)
Hi there,
where is it possible to find some easy instructions on how to configure and run a Simple Server in a local PC running Linux Ubuntu?
Well, I've read the instructions about Simple Server on SERVER FAQ section, and launched the command line "./soundjack SERVER 1 256 2 50050", and received the following answer:
Warning: Ignoring XDG_SESSION_TYPE=wayland on Gnome. Use QT_QPA_PLATFORM=wayland to run on Wayland anyway.
BOOST-VERSION: 1_78
SJC STARTED IN SIMPLE SERVER (SS) MODE
MIXDOWN CHANNELS: 1
AUDIO FRAME SIZE: 256
JITTER BUFFER : 2
BINDPORT : 50050
but I'm not able to understand how to connect a client SoundJack user to this server.
Where do I find it?
To be more precise, I too would like to connect 2 users of the same LAN to the WAN, and I've understood that it's necessary to run a simple server session in one of the two PCs of the LAN, so that either the other one (in the same LAN) or the other user (in the WAN) can play together.
How do every one of the three players can join the running server?
Thank you in advance.